Thaye Dordje, the 17th Gyalwa Karmapa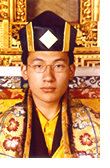 The Gyalwa Karmapa is an enlightened being, the holder of the teachings of the transmission of the Kagyu lineage.
The teachings of this lineage originate from the Buddha and have been preserved in a pure and authentic form up to the present day through transmission from master to disciple.
The Gyalwa Karmapa is the recipient of these teachings and the entire blessing that they confer.
The teachings cannot be confined merely to texts. They are living and experienced by great adepts of whom Gyalwa Karmapa is an example.
Reincarnation & Recognition of the 17th Karmapa >>>